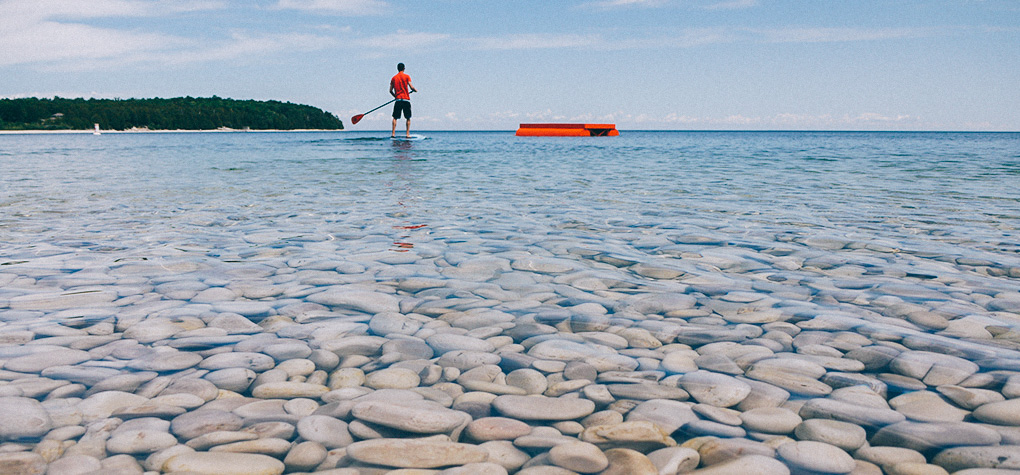 Detroit Harbor (ferry dock) – When you arrive there are eating establishments, gift shops, bike & moped rentals and guided tour trains.
Den Norsk Grenda (two buildings with grass roofs) – They were shipped from Telemark, Norway. One is a gift shop and the other is a book shop.
Business District on Main Road – Mann's Mercantile and Mann's Store (grocery store for over 90 years). Also restaurants, a book store and the newspaper office (Washington Island Observer).
Art & Nature Center – Housed in the Island's old school building (1904). Island artists and artisans display their creations, some of which are offered for sale to the public. In addition to the art area, the Center has exhibits depicting the natural and cultural history of the Island. The Center is also used for art classes and sponsors a week-long music festival in the summer.
Little Lake (at the end of Little Lake Road) – Jens Jacobsen's home and the Jacobsen Museum. Maritime and other artifacts are displayed. Step through the gate and take the path to the lake. Jens Jacobsen's home has been restored to its original appearance. The Jacobsen Museum has many artifacts gathered to celebrate the Island's history.
Schoolhouse Beach – A sheltered harbor with smooth stone beach. The beach got its name from the log schoolhouse built there in 1850. There is a stiff fine for anyone caught removing stones from the beach.
Farm Museum – Farm buildings from various locations on the Island are assembled here along with old-time agricultural implements. Wednesdays in summer are family fun days with demonstrations of 19th century crafts along with other activities for children. Small animals and pictures of yesteryear are on display.
Mountain Park – After the 184 step climb to the top of the tower, several benches are provided for your convenience. From the top of the tower on a clear day you can see beautiful Island vistas, Escanaba, MI, as well as Rock and St. Martin islands.
Jackson Harbor – The town dock, a park and a maritime museum. The town dock is the scene of the remaining commercial fishing fleet and also provides dock space for private boats in the summer. The park has trails for enjoying the wildflowers as you hike through the "ridges" natural area. The Maritime Museum has artifacts displayed inside and outside of the two old fishing sheds.
Rock Island State Park – A one-mile cruise aboard the "Karfi" from Jackson Harbor to Thordarson Boat House on Rock Island. The Island has marked hiking trails, a sand swimming beach, camping and picnic areas. Also Potawatomie Light, the oldest lighthouse on Lake Michigan built in 1837.
Sand Dunes Public Beach – A pleasant place to picnic and swim.
Percy Johnson Park – One of my favorite places, a quiet out of the way place to just relax and maybe see one of the white swans that inhabit Washington Island.